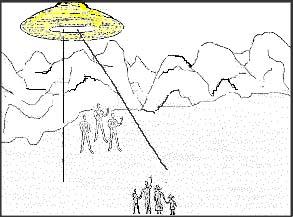 The Argentinian Ufologist, Dante Franch, shares the astounding encounters of his group with the crew of the E.D.V. (Extraterrestrially Directed Vehicles)
Programmed Contacts and Telepathic Messages
THE AUTHOR OF THIS PAGE, DANTE FRANCH, HAS BEEN DIRECTING, FOR A NUMBER OF YEARS, "CAMPSIDE EXPERIENCES" WITH THE E.D.V. (Extraterrestrially Directed Vehicles) BY ORGANIZING OBSERVATION GROUPS AND ACHIEVING "DIRECT CONTACTS," WITH EXTRATERRESTRIAL BEINGS, ESPECIALLY ON MOUNT "CERRO URITORCO" IN CAPILLA DEL MONTE - CORDOBA, ARGENTINA; ONE OF THE MOST IMPORTANT OBSERVATION POINTS FOR EXTRATERRESTRIAL CRAFT IN THIS COUNTRY.
Cosmos...a sucession of accumulated galaxies projected towards the infinite. Already astrofisics starts to probe fathomless space and provide within a calculated probability or by common sense, that we are not alone in the universe.
For many years, now, investigative efforts on behalf of the great powers of the earth center not only on the investigation of the extraterrestrial phenomenon in itself, but also in trying to establish communication with the crews of these flying prodigies.
In spite of the countless economic resources spent to find out more about extraterrestrials, the effort has not yielded results. That is why the world's great powers, through "Project Aquarius," have decided to study the methods in which the said "contacts" establish communication with extraterrestrial beings.
It is important to note that the "contact" is not from us to them, but from "them" to us. In other words, the extraterrestrial beings not only decide WHO they want to contact, but contacts are carried out within a PRE-ESTABLISHED ORDER AND PLAN.
Since 1984 until the present, Dante Franch has participated in more than 200 "camp experiences" where approachings and descents of beings that are a part of the "GALACTIC CONFEDERATION" have been carried out. These contacts are of radical importance and in some of them, the "Elder Brothers" not only permit observation of their ships, but also photographs of the crew members.
Among the experiences that stand out are:
1984 CONTACT IN VALDEZ PENINSULA - PIRAMIDS PORT, CHUBUT, ARGENTINA.
1985 ENCOUNTER IN LOS TERRONES - CORDOBA, ARGENTINA
1986 EXPEDITION TO THE URITORCO - CAPILLA DEL MONTE - CORDOBA,ARG.
1987 ENCOUNTER IN THE LA AURORA DAM - SALTO URUGUAY
1988 ENCOUNTER IN LAKE IPACARAI - PARAGUAY
1989 DESCENT ON THE CITY OF LONDRINA - BRAZIL
1990 ENCOUNTER IN CERRO PAJARILLO - CAPILLA DEL MONTE - CORDOBA,ARG.
1991 ENCOUNTER IN LUNA CREEK (QUEBRADA DE LUNA) - CORDOBA, ARG.
1992 ENCOUNTER AT EASTER - LUNA CREEK (QUEBRADA DE LUNA) - CORDOBA
1993 HARMONIC RESONANCE WORKSHOP - CORDOBA
1994 MEDITATION WORKSHOP - QUEBRADA DE LUNA
1995 SPIRITUAL CONTACT WORKSHOP - QUEBRADA DE LUNA
1996 INTER-CONGRESSIONAL WORKSHOP - QUEBRADA DE LUNA
1997 INTERNATIONAL CONGRESS WORKSHOP - QUEBRADA DE LUNA
1998 CONTACT IN "VILLE LEYVA" - COLOMBIA
Contact and mark on Cerro Pajarillo
The event that left the mark on the side of Cerro Pajarillo, or Mount Pajarillo, Capilla del Monte, Cordoba, Argentina, in January of 1986, is sometimes mistaken for the "Cerro Uritorco Contact," although what happened there, at Cerro Uritorco, happened seven kilometers away. THIS event is considered to be of MUCH IMPORTANCE WORLDWIDE, as it was ANNOUNCED thru the media in Argentina PRIOR to its happening; thus pertaining to what can be considered a "PROGRAMMED CONTACT." Said contact was previously announced in the Clarin and Flash Newspapers, on certain radio stations, and on T.V. Channel 9, between November and December of 1985.
What happened follows: On the night of January 9, 1986, 12 persons led by Dante Franch, and who call themselves "The Eagle Group,"(Grupo Aguila) headed towards the Macero Stream (behind Pajarillo Mount) looking for the pre-established point of contact that had been given to Dante Franch by way of telepathic communication, where it was given that between 11 and 12 p.m.,the contact would begin.
As the hour approached, the nervousness and emotions that we were all experiencing kept augmenting more and more. When there were only fifteen minutes left for the contact to begin, we all positioned ourselves on the rocks of the clear stream, observing the side of Mount Pajarillo as seen from behind; minutes passed and we began our breathing and relaxation exercises, and then we started meditating. At approximately 11:30, we observed a light that came from the top of the Mount, in front of us. The form was ovoidal, with a protuberance on top like an inverted cup. The oscillating light was intense and of a color that varied from orange to golden, to whitish-light blue. Its size was like that of a half-moon, and it moved over the side of the Mount without touching it, as it oscillated.
Suddenly, we observed how from its interior came several luminous spherical objects of a bluish-white color, that went to the sides of the ship, moving from left to right, and from top to bottom, moving in the form of a cross of equal sides. These movements continued for several minutes, then the spheres returned to the "mother ship." At this moment, the ship became very luminous and rose slowly, and it was then when I heard the following message in my head:
"MAN NEEDS TO SEE TO BELIEVE? HERE IS THE PROOF! MAKE IT KNOWN!"
Minutes later, the ship went slowly behind Mount Pajarillo, and we saw it illuminate with an intense reflection during several seconds. It was at that moment that the ship shot a beam of energy on the side of the Mount to make a "MARK," measuring 115 meters long by 95 meters wide, numbers which are proportionate to our galaxy, which is 115,000 light years long by 95,000 light years wide. By leaving the mark, the "CONFEDERATION" left a message to humanity, which was recorded by many investigators worldwide. This contact happened within the "Cosmic Plan" for the earth with one of the ships that belongs to the "INTERGALACTIC CONFEDERATION OF WORLDS."
After this historical moment, dozens of persons travelled to the place and climbed the sides of the Uritorco, Colcaqui, Los Terrones, and Pajarillo Mounts, looking for SUPERIOR CONTACTS!
A few months later, in another contact in 1986, a series of symbols was telepathically transmitted, with which the extraterrestrials wanted to give us knowledge of the existence of a "Cosmic Plan" where a message was transmitted to all of humanity; a message that consists of three fundamental points to be able to "Ascend Consciousness."
Approximately 50 investigators were attracted to this contact from all parts of the country. This was contact #36 and it was a "previously programmed contact," with beings from space of the "Intergalactic Confederation," and of which they accepted observation of their ships by those who chose to concur to the pre-programmed places.
In these encounters the extraterrestrial beings gave us signs that they had good intentions and wished to help all of humanity in this time of change and evolution that is approaching. Our group later divided into seven groups according to a telepathic indication given, and the day and the hour of the next contact, as well as the way in which it would occur was revealed.
The participating groups had important manifestions revealed at the places where they were led to, but perhaps the most spectacular was the one that occurred on the night of February 11, 1989. A group led by Dante Franch at the "Los Alazanes" dike was waiting for the appearance of the "Elder Brothers," while a thick fog covered us at about 1500 meters. We were suddenly illuminated during the course of several minutes by a ship with a lenticular shape, of approximately 20 meters length, and of a white silvery color with bluish undertones. It illuminated all, including to trespass the fog, to the point of allowing us to see the mountains in front of us. After a few seconds, the ship, which was above our heads at a height of about 30 meters, divided itself into three spheres of approximately five meters diameter, and moved in the air making a kind-of-dance movement above our heads. After a minute, these spheres started to elevate, one at a time, and as they each retreated upwards, the light around us started to diminish in intensity, slowly, and by the time the last one left us, we once again were surrounded by the nocturnal darkness and the fog, thru which we had to continue to use our lanterns to be able to see.
Another important fact is that the following day we discovered, on the side of the mountain in front of us, three circular marks of about 20 meters diameter each, and the most interesting thing about them is that they are in the form of a triangle with the vertice pointing down and with clear and precise delineation. These marks, and others, are left intentionally by the "Elder Brothers" as physical proof to favor the transmission of the messages received in the programmed contacts.
On February 12, another telepathic message was received where 5 group members were called to a special "Point of Contact," which would later be called,"Dike 8." The time of contact was perceived to be between 9:00 p.m. and 4:00 a.m. of the next day, at a special place where we were led telepathically to camp out. At 9:00 on the dot, February 13, the mountains illuminated with the first ship that appeared, suspended in front of us, making itself visible during spaced intervals of approximately 10 minutes. In the minutes that it was visible, it answered the signals that we made to it, and approached our campsite.
This experience continued, until at 1:45, another ship appeared, an "Oval Ship," similar to the one on the 11th, and it remained motionless at the side of the mountain in front of us. From this ship, two spheres came out, moving close to us and attempting to communicate. At that moment we formulated questions, which were answered in a luminous, telepathic and sonorous form. What we heard was incomprehensible, but beautiful in the sense of harmony, monocorde, musicality and softness.
Among other things, we telepathically perceived that we should not get close to the ship because we still lacked the preparation to be able to ascend, but that possiblity could be given in the future. We asked about their names, of the names of the commanders of the ships, but they transmitted to us that they were "Our Brothers," that they had a basically spiritual mission, and that they were in the process of carrying out a "Plan of Divine Origin" to help humanity in the next evolutionary step.
During this contact they irradiated us with a marvellous energy that produced a soft tickling in the body, while we all received the message in our heads that it was necessary to increase our psychic and spiritual vibration. They also sent a feeling of "Peace and Love," over us, which made us cry, out of sheer happiness. In that instant we tried to respond equally, by lifting our thoughts and transmitting a message of "love" towards them, thinking that their ships were beautiful and that we loved them. Then, they came closer, and produced a harmonic movement in the sky as if it were a dance of happiness and approval of what had happened. This dance lasted several minutes.
After this, the spheres returned and the large lenticular ship stopped emitting light for a few minutes, and the spheres suddenly came back at a great speed as they irradiated us with the last beam of light before leaving definitively. At that moment all five of us internally felt that the contact session had ended. We percieved the sensation that we had fulfilled our mission, and we decided to enter our tent to sleep, and it was then that we realized the amount of time that had transpired, becuase it was already 4:00 a.m. In other words, seven hours had gone by, although we felt that everything had taken place in less than an hour. But, we still had yet to live through another proof of their presence; the whole time that we were there, there had been a light drizzle, and we all had on wet clothes, but in that last moment, when the ship got closer to beam us with the light, it produced the miracle of not only drying our clothes, but of drying the tent and the ground around us, to such an extent, that vapor (because of the drying process) exuded from our tent. We also discovered that our faces and hands were slightly tanned.
It is important to note that the above narrations only reflect experiences #2 and #36 of "Contacts" within a sequence of nearly 200 up until today. The encounters with extraterrestrial beings during these experiences are not by chance, but respond to an "Intelligent Plan" of development by the "Intergalactic Spiritual Hierarchy."
For those involved in these experiences, previous preparation is required, which is important, because human beings would suffer grave bio-psycho-physical disturbances without having been previously prepared for them. Among the most important things required is not to eat the meat of any animal, fish, or bird, 40 days before an encounter, nor the ingestion of alcohol, nor to smoke. This serves to be able to produce a purification in the body which is SO necessary to be able to increase extrasensory perception for telepathic communication. It is also required not to drink infusions of tea, mate, or coffee, which produce nervous-system alterations, as well as not to engage in sexual relations in those days.
Proper diet must be accompanied by respiratory exercises which serve to harmonize emotions, and are useful in modulating cardiac rhythms when presented with a source of external excitement. This preparation also helps reduce fatigue and to equalize thermal sensation, elevating body temperature, among other things.
This intense preparation process allowed our group to be the most seriously prepared group in Argentina, which facilitated contact with beings from other worlds within their "Plan for Encounters with the Human Race of Planet Earth." The OBJECTIVE of these contacts is to slowly provoke a particular and generalized LEVEL OF CONSCIOUSNESS, so that in years to come,(and by having "saturated us with messages, contacts, and sightings,") we might come closer to the cherished "Cosmic Consciousness."
In most recent years, contacts have followed step by step, case by case, and we have been receiving information and knowledge from them about the origins of the "Adamic Race;" the motive behind extraterrestrial visits to Earth; what their intentions are; why were they called Gods in antiquity; since "when" are they visiting; and, last but not least, "are they are going to intervene in stopping our own destruction?" If it is so, then when will they do it?...among other knowledge.
The CONTACT EXPERIENCES have happened at different places in Argentina and South America, but perhaps the locations where the majority of the contacts have taken place are at Mounts "Uritorco, Pajarillo, Colchaqui, and Los Terrones," which are mounts surrounding the city of Capilla del Monte, situated in the province of Cordoba, Republic of Argentina. This is one of the most important "Contactee Centers" of America, with similar characteristics to Mount Shasta in the United States.
Dante Franch's contacts continue until the present, and he has hundreds of photographs of "Flying Saucer Ships and Extraterrestrials."
EXTRATERRESTRIAL TYPES - INTRATERRESTRIALS AND NON HUMANS, THE FOLLOWING WERE OBSERVED BY DANTE FRANCH DURING THE CONTACTS.
TYPES OF TERRESTRIAL LIFE, EXTRATERRESTRIAL, INTRATERRESTRIALS AND PRIMORDIALS OBSSERVED:
***26*** TYPES PHOTOGRAPHED
***15*** NON-HUMAN CATEGORIES PHOTOGRAPHED
***3***
"By having lived through these experiences, they fill me with responsability to the world and to the 'Judge of History." - DANTE About said "contacts," investigators of the UFO phenomenon disbelieve, in general, because they insist in having irrefutable proof, such as; "they"(the ETs) should descend on a plaza in front of our scientists.
I would like to ask of those who think like this, "Do you believe that if these "Extraterrestrial Beings" would like to convince you of their presence, they would need interpreters? Or would they continue to play cat and mouse with us?" In reality, they do not want to convince us, and that is why they do not give us irrefutable "scientific proof" of their presence. Quite the contrary; they present themselves as very sly and choose very well those with whom they choose to contact.
They hope that humanity matures enough to recognize the extraterrestrial historical presence that would link them to the so called "Angels, Messengers, or Ancient Fathers and their ships with Charriots of Fire, Clouds, or Storms of Light."
Let us not expect an intervention to solve our problems, because THEY should not do for US what we can do for ourselves. "They" do not come to "save." Man is the creator of his own destiny. But, they do come to "help" those who deserve and desire it, if they so request it.
It is up to the reader, then, to inform him/her self more and to deepen his/her awareness of this situation, and to continue the investigation, widening our concepts, without giving in to prejudices or to the usual negative people, who are only ready to negate all.
Extraterrestrial life today ceases to be a question of belief, but passes on to be more of a scientific, historical, and spiritual reality, and it is a reality that YOU can enter into.
The experiences and the sightings continue, the photographs and films and videos in the whole world are more and more spectacular and irrefutable. But the last word is in YOU... Do YOU want to delve deeper into this subject? If so, then GO AHEAD...