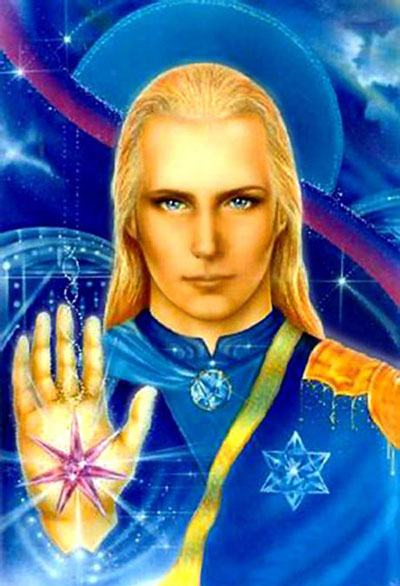 Buenos Aires, 26/8/1998 - 03:15 hs
Dear Cosmic Brother
Pray, pray, pray incessantly!..... I am your brother and friend in the light of "Our Saint", Commander Ashtar who "contacts you" now...... I do not have good news for you or for the thousands of volunteers in service, nor for the inhabitants of the planet, third from the physical center of the sun (Earth).
There is no time to loose, you must begin urgently the las phase of your voluntary mission, which includes the last phase of diffusion of the physical, psychic and spiritual, to be able to cope with coming catastrophic events which are approaching in a planetary order and, my dear brothers, there is little that can be done now.
We are very sorry to have to tell you, ort hearts ache, that with your thoughts, acts and interactions, you have determined and preciptated the beginning of the end of your humanity as you know it today.
You have chosen this by your Free Will. And "the Celestial Father " will aloow our intervention only in the world evacuation we have mentioned before, which is necessary for the preservations of the human race.
It is immense the anguish and sadness we are feeling among the Sons of Light (Beings of Light) here reunited in the "Star ship", since we always held hope of a shift of consciousness necessary to produce, in time, a change to alter the final destiny of humanity.
Despite your precious gift of Free Will which was hoped you would use positively, (this was the wish of the Celestial Beings), we worked with happiness and absolute devotions towards supporting and collaborating in every aspect of "Our Fathers's" mission that we were permitted to, hoping anxiously to see a 180o turn in attitude.
We are so sorry that it did not happen. We could not do it! At least not in the time frame pre-determined.
Despite this, "the Intergalactic Council" asks that you continue your efforts, more now thatn ever, to raise your "Internal Christic Consciousness" through prayer, meditation and fasting to receive mercy from the father. This will allow for rapid intervention from the Messiah and leader Jesus Christ (our beloved) so that the suffering and torments of millions of brothers in your planet may cease or stop promptly.
The planet today enters a phase of absolute and uncontrollable natural, spiritual, ethical, moral, social, and political chaos. Earth's human society will start to collapse at gigantic paces., a product of the actions and consciousness.
I will not mention again the tremendous disasters that approach at a climatic, tectonic, geophysical and enviromental because we have already said and spicified in many comunications transmitted to dozens of channels in the planet through the years. But we wish to convery some pointers to help through the very trying times approaching.
We are experiencing the terrestrial times mentioned in "Mathew chap.24" and while this "purification" lasts and until the return to Earth of our beloved leader Jesus Christ, you must continue your personal and internal work.
Intune your physical and energy bodies, since none of you know when you will be evacuated or if you will. Therefore, a healthy state of your Bio-Psyco-Energetic body is desirable and it will help and facilitate your survival.
This is possible by the means already transmitted to you (meditation, prayer, fasting, breathing, physical exercise etc). These are INDISPENSABLE, PRIMORDIAL AND FUNDAMENTAL.
There is very little oxygen in the cities, generally lower than the minimum necessary... This and the filtration of ultra violet rays through the ozone is generating a state of altered consciousness in 3/4 of your being, thoughts are disturbed, reasoning is affected, incorrect actions, and a tendency towards aggression. This will also contribute to the social conflicts, family conflicts, wars and escalating violence, assassinations, and crime in general.
The humanity of your planet is being observed by us through monitors and you look to us confused, disoriented, drugged and lost. Beware!!!
Also we have already lost and will lose some more, due to the confusion, very important sipiritual leaders trusted to the day. Trapped in the malevolent net. Don't forget their weapon is confusion. The more the confusion, the easier for the malice to spread.
But please, DO NOT LET YOURSELVES BE CONFUSED!
My brothers, protect yourselves with Christ's Light (white light meditation, protection) and the power of the Virgin Mary, mother of Jesus Christ.
Do not let anybody confuse you. Jesus Christ is the same always. We (servants of the light) identify ourselves through the heart chakra. They may blind your vision, obstruct your hearing, neutralize your senses, but they can never destroy the "Divine spark of Christ that resides in your hearts", (spirit). So please do not fear!
When we (the servants of the light) come to you, you will know it, you will perceive it, you will feel it in your auras... THAT IS OUR IDENTIFICATION KEY: The love (energy) felt in the centre of your chest, without illusions, without words cluttering the mind, just feel it and perceive it.
While on the subject, my dear "friends, brothers, messangers, cosmic gardeners", PLEASE LET EVERYONE KNOW THAT WHAT SOME CALL "CONTACT" IN THE SOUTH OF USA AND PARTS OF CENTRAL AMERICA, RELATING TO "CHUPA CABRAS" DOES NOT COME FROM US, DOES NOT BELONG TO THE CONFEDERATION, IS NOT EXTRATERRESTRIAL, DOES NOT SERVE FOR OUR PLAN, AND IT IS NOT CHRISTIC.
Aswell, we wish to let you know that shortly before the return of Our Lord (Jesus Christ) there will be more a wave of malignant acts which will produce a sighting and contact en masse, with a promise of exchange of technology, science, and extended life span, but this also will not be from us or Christic. The sons of light do not need to promise anything, do not wish for personal glory, but simply give their help and service for glory or "our Lord".
Please remember that when Jesus returns, each one will hear a calling in their hearts and "it will be like lightning extending from West to East (all over the world).
All the seeded "sons of the light", will know exactly when this moment comes and us (their angels) will be there and we will see them face to face, and the affinity of our vibrations will permit the most wonderful reunion ever lived. Strive with love and passion to reach that moment. Brothers, the fate of your world and the fate "of those following false Christs", should not necessarily be the same "Our Lord" wants people to be saved, strive to be those that will be. Remember that you are one with Jesus Christ, so do not worry, pray even more for those who will not wake up in time, millions will perish when they could've been saved!
Pray so the suffering can stop, since the rebirth has started, but do not forget this purification is necessary for the Plan. We have always loved you all and will continue working, not any more to correct or avoid, but simply to act at the evacuation as soon as it is ordered by our Eternal Father.
Be prepared! Remember the Lords words. "Many lives has had my father".
To you "Channel brothers", we thank you profoundly for the work you are doing. We will inform you more in time about the work relating the evacuation.
Meanwhile please continue to serve to the last instant of the difusion, which will help in waking the volunteers still asleep.
GOD BLESS YOU AND PROTECT YOU IN THE LIGHT OF HIS ONLY SON JESUS CHRIST!
AMEN... PEACE AND LOVE...
COMMANDER ASHTAR SHERAN